Repelec (Aust) Appointed as National Distributor for CableClear
Publish Date: Tuesday, 26 July, 2016
Repelec (Aust) are proud to announce that we have been appointed as the exclusive national distributor for CableClear, an innovative audio-visual installation solution designed and manufactured in Australia.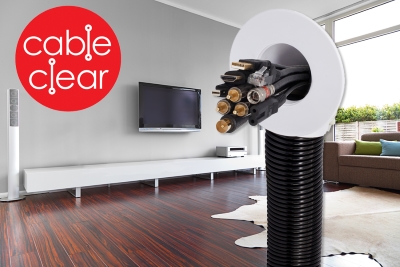 CableClear is an enclosed ducting system that allows connections between wall mounted televisions to power outlets and AV devices. It's quick and easy to install in around 20-30 minutes, and eliminates unsightly cables and open cavity entries that are typically associated with wall mounted television installations. There's no need for any special skills or extra tools, as a hole saw, plumb bob, pull-through nose cone and detailed instructions are all included inside the box.
Once installed, CableClear provides a 50mm (2") flexible duct behind the wall, and cables are gravity fed through the duct to hide them completely. All components are manufactured to equivalent or higher fire safety standards than standard electrical conduits. There's no building power-bridges inside walls or poking around with wire pulling rods.
CableClear is now available through leading Electrical Wholesalers and Bunnings Warehouse stores nationally.