Scangrip Ex Proof Work Lights
Publish Date: Tuesday, 26 February, 2019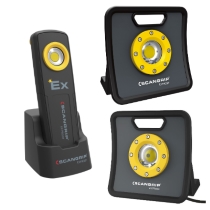 SCANGRIP is proud to present a new range of explosion proof work lights for the professional user.
Built with the very latest LED technology, their explosion proof lighting provides extremely bright illumination and a very long lifetime. The hand-held UNI-EX PROOF LED work light is perfect for the professional user working in narrow and confined areas whereas the two NOVA-EX Proof floodlight models are ideal to illuminate a larger work area.
All the EX PROOF models are approved and certified according to the international IECEx regulations.
More Information